Law firms look to artificial intelligence and M&A for help
ARTICLE | May 03, 2023
Authored by RSM US LLP
As signs of economic cooling continue, the professional services industry has started to feel the impact of an uncertain economy. Clients are less likely to commit to large capital expenditures quickly, and they tend to delay any spending they feel is discretionary until there is more certainty in the economic outlook. For law firms, specifically, two major trends we will be watching through 2023 are exploring growth opportunities through mergers and acquisitions to bolster decreasing demand and propping up dismal productivity metrics with investments in artificial intelligence (AI).
Professional services overview
Following 2021, a year of record profits and growth, 2022 was much more sobering for professional services (PS) firms. On average, year-over-year revenue for the industry sector remained positive at 10.4% growth overall, according to SPI Research. However, other key performance metrics for 2022 lagged behind a stellar 2021. 
Annual revenue growth: Professional services subsectors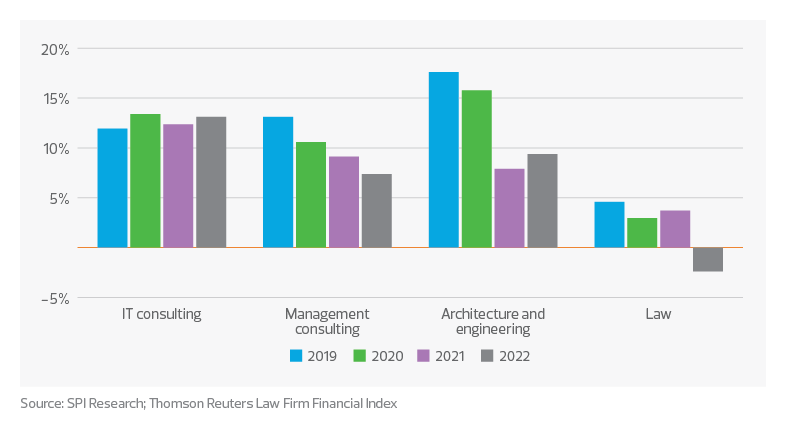 Last year had a resurgence of direct and indirect expenses, driven by the COVID-19 recovery as business returned to usual, as well as widespread inflation. According to SPI Research, this caused profit margins to dip slightly to 35% for the PS sector from 36.5% the previous year. More concerning, however, was the decline in other key metrics, such as employee billable utilization and projects delivered on time, dropping by almost 3% and 4%, respectively. 
Professional services firms ? key performance metrics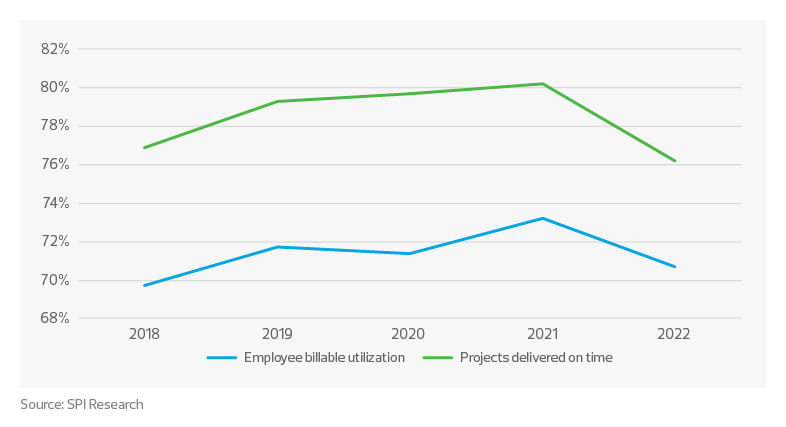 These metrics point to the cracks in PS firms' ability to scale efficiently. And they are a warning sign of productivity issues throughout the industry. In the past few years, PS firms experienced one of the tightest labor markets in recent history, and attracting and retaining talent was a top priority. However, as demand growth waned, firms that over-hired in anticipation of sustained growth were left holding the bag—or in this case, surplus employees with elevated salaries.
Although the PS labor market shows signs of cooling, unemployment is still near record lows, continuing a multidecade trend. Firms are hesitant to decrease headcount to adjust for cooling demand. However, if performance metrics continue to decline and profitability remains at risk, we may see some slack in the PS employment market this year.
Subsector highlight: Law firms
Law firms had a particularly rough 2022, ending Q4 with the Law Firm Financial Index at an all-time low since its inception in 2006. Demand growth for law services steadily declined throughout the year, ending with a 3.9% decline in demand over the previous year.
Demand for law services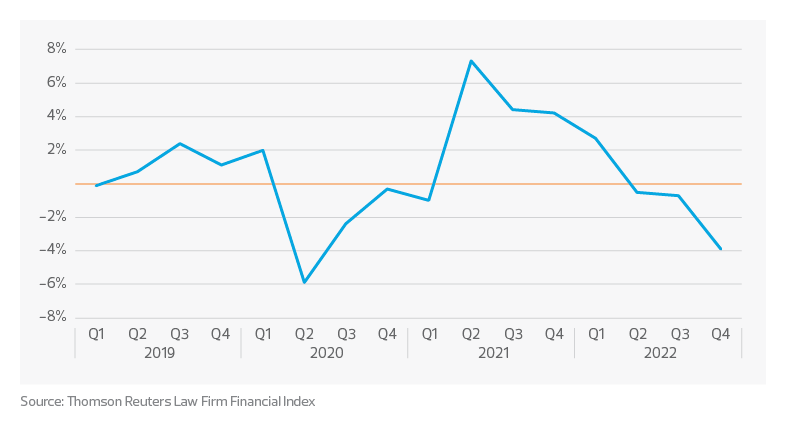 Midsize firms led the demand growth for nontransactional demand. Many clients are becoming more cost-conscious and are rate-shopping in anticipation of a possible economic slowdown.
Productivity in law firms has also taken a major hit, with the average billable hours per lawyer dropping from 121 hours per month in 2021 to 112 hours per month in 2022, a significant drop from the 2005-09 average of 126 hours per month. 
Lawyer productivity growth year over year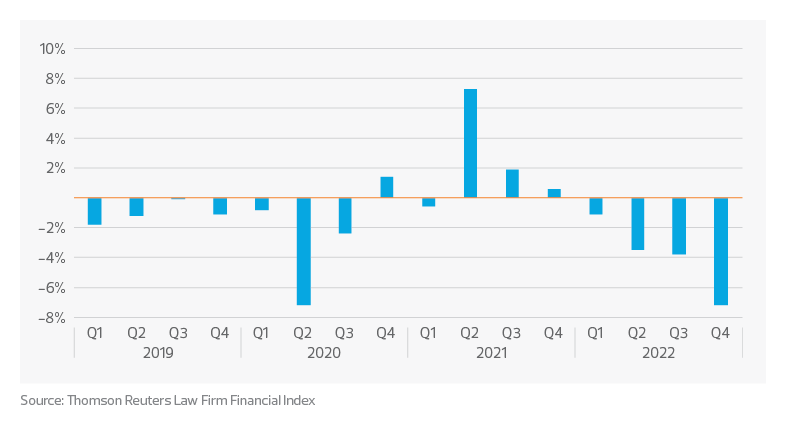 This decrease in productivity—likely a result of overhiring through 2021 and 2022—was an attempt to stockpile resources in anticipation of sustained demand growth. The tight labor market also contributed to high attrition rates, almost 25% at the peak. The decreased productivity and high attrition rates led to a loss of institutional knowledge. It also necessitated onboarding and training new staff on firm processes, but it can take months before new employees hit maximum productivity.
The combination of lower demand and lower productivity has encouraged law firms to consider two distinct strategies to boost key performance metrics: mergers or acquisitions with other law firms and utilizing AI technology.
M&A among law firms
According to Fairfax Associates, M&A activity among law firms increased in 2022, with 46 completed deals in the United States. This increase was up from 41 in 2021 and 40 in 2020. And this trend looks to continue throughout 2023, with seven mergers already completed in January 2023. Fairfax Associates notes that most transactions involved small to midsize firms with five to 20 lawyers.
In the aftermath of COVID-19, many growth strategies returned to domestic roots, veering away from the international growth trend of the previous years. For example, cross-border transactions remained low in 2022, with only two international mergers. Amid economic uncertainty in 2023, the trend is expected to remain domestic.
Although the cost of capital remains high, as the Fed enacts monetary policy in an attempt to slow inflation, many law firms have been financially ready to fund acquisitions. Still, they wait for the right firm and the right time. As demand continues to soften, and direct and indirect expenses remain high, there is a great disparity in law firms that have protected their profit margins over the last 18 months. Firms with particularly low performance metrics will be more eager to consider lower multiples in an acquisition, which will continue to prop up transaction numbers in the near to mid-term.
AI driving productivity gains
Many firms are investing in technology to drive productivity and efficiency within both operational and back-office processes. AI investment has been soaring over the past few years, doubling in 2021 to $66.8 billion across all industries, according to money.com. ChatGPT, in particular, has made headlines globally since its launch in November 2022, as Microsoft invested a cool $10 billion in ChatGPT creator OpenAI.
Recently, one of the latest versions of the technology, GPT-4, successfully passed the bar exam's multiple choice and written portion, showcasing the incredible advanced reasoning power of the technology. These impressive advances in generative AI have sparked a valuable conversation about the benefits and warning signs of using this technology in the legal sector.
Law firms are investing in technologies that harness the power of generative AI to accelerate tasks such as legal research, document review and deposition preparation, as well as editing contract clauses and performing contract analysis. It is no longer a question of if but when firms will need to adopt these tools into daily practice to help streamline processes and improve efficiencies. This next level in digital transformation will certainly leave many winners and losers in its wake.
As exciting and powerful as generative AI is, many precautionary measures must be taken when using tools like Chat-GPT4 in the legal industry. These include intellectual property concerns, ethical and privacy implications for using client data to train models, and the need to verify outputs. These newer generative AI models are superior to traditional predictive machine learning models in many ways, including dealing with incomplete data and creating new data. However, this generative feature decreases a lawyer's ability to explain the data and increases the need to verify outputs and results. Generative AI models make it much harder to pinpoint specific data points referenced in developing a solution, which can be problematic in the practice of law.  Specifically, Chat-GPT4 can suffer from so-called hallucinations, which means the software could make up legal cases or details to satisfy a request.
These drawbacks highlight an important concept: we do not see these tools replacing lawyers. Instead, lawyers will use AI technology to improve productivity and accelerate the value they offer their clients, providing them with a competitive advantage.
Looking forward
Professional services firms are in for an unsteady beginning to 2023, as demand growth lessens with economic uncertainty. However, persistent expenses and wavering profits will encourage firms to take action on driving revenue and productivity growth through mergers and acquisitions, and with investment in AI. When investing in AI, it's critical that firms understand the effort required to structure, cleanse and prepare data for build-and-teach useable models.
Let's Talk!
Contact us at one of our locations or fill out the form below and we'll contact you to discuss your specific situation.
RSM US Alliance provides its members with access to resources of RSM US LLP. RSM US Alliance member firms are separate and independent businesses and legal entities that are responsible for their own acts and omissions, and each is separate and independent from RSM US LLP. RSM US LLP is the U.S. member firm of RSM International, a global network of independent audit, tax, and consulting firms. Members of RSM US Alliance have access to RSM International resources through RSM US LLP but are not member firms of RSM International. Visit rsmus.com/about us for more information regarding RSM US LLP and RSM International. The RSM logo is used under license by RSM US LLP. RSM US Alliance products and services are proprietary to RSM US LLP.
Johnson & Sheldon, PLLC is a proud member of the RSM US Alliance, a premier affiliation of independent accounting and consulting firms in the United States. RSM US Alliance provides our firm with access to resources of RSM US LLP, the leading provider of audit, tax and consulting services focused on the middle market. RSM US LLP is a licensed CPA firm and the U.S. member of RSM International, a global network of independent audit, tax and consulting firms with more than 43,000 people in over 120 countries.
Our membership in RSM US Alliance has elevated our capabilities in the marketplace, helping to differentiate our firm from the competition while allowing us to maintain our independence and entrepreneurial culture. We have access to a valuable peer network of like-sized firms as well as a broad range of tools, expertise and technical resources.
For more information on how ​Johnson & Sheldon, PLLC can assist you, please contact us: Amarillo | Pampa | Hereford